Professional Teams Ranking: January 24
Ranking
We have prepared a new update on the Dota 2 professional team ranking. This time, there are a lot of changes due to the end of the DPC Regional Leagues Winter Season and Intel World Open Beijing. Let's talk about the main ones.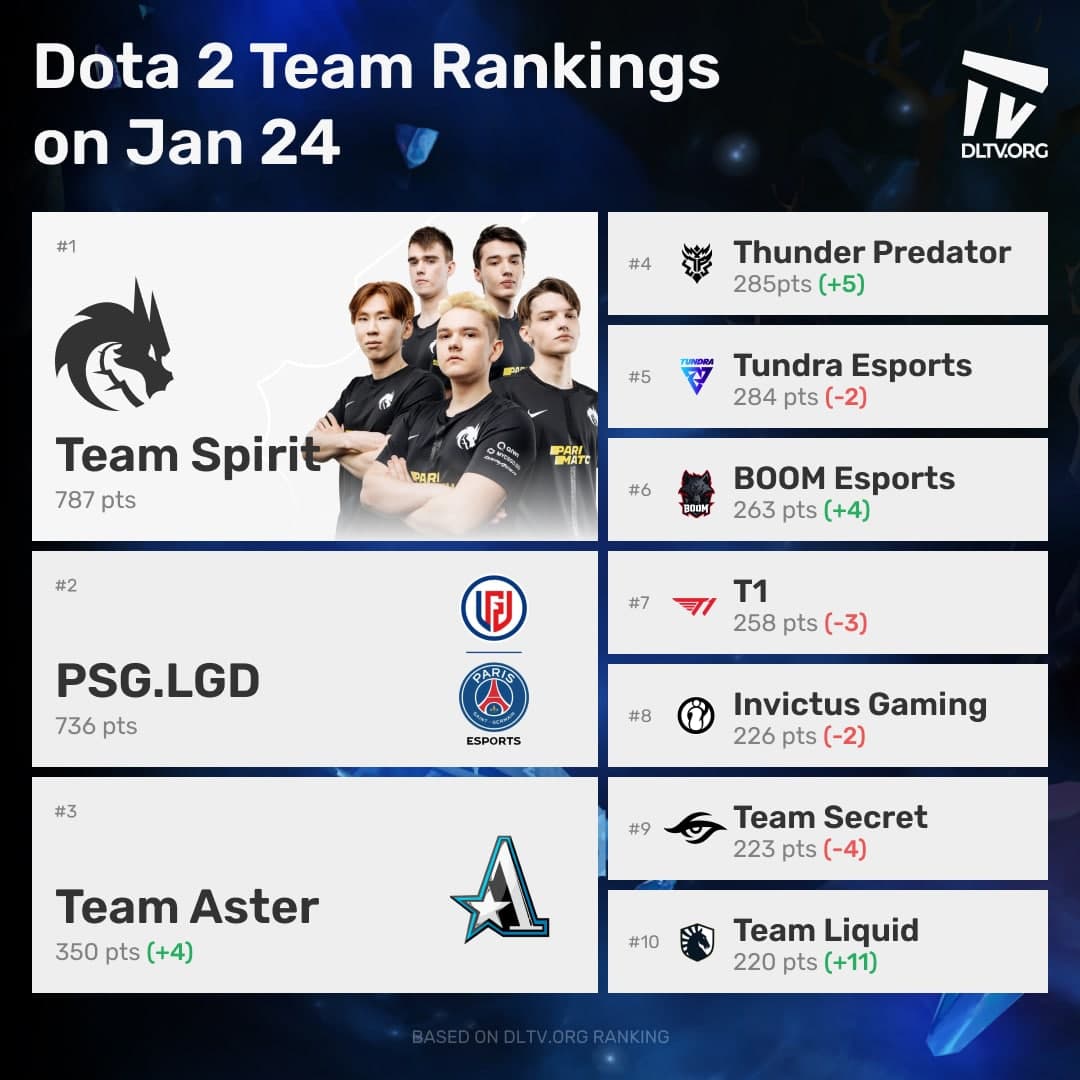 There are 8 changes in the Top-10. Only Team Spirit and PSG.LGD, who have been on the 1st and 2nd lines for a long time, were unaffected. After updating the ranking, Team Aster took 3rd place. The team finished second in the DPC: China Upper Division and won the Intel World Open Beijing. Thunder Predator, BOOM Esports, and Team Liquid, who excelled in the DPC Winter Season and became the champions of their regions, broke into 4th, 6th and 10th positions, respectively.
Speaking of the Top-10, the decline of those teams who performed worse than others during the DPC season is also worth noting. Tundra Esports, T1, Invictus Gaming, Team Secret, and Evil Geniuses lost a lot of positions compared to last week. Especially Evil Geniuses. The team dropped out of the Top-10 and is ranked 15th now.
In the second ten, the changes are no less. The Chinese team Xtreme Gaming, made a rapid leap and came very close to the Top-10 due to vice-championship at the Intel World Open Beijing. Then Quincy Crew is 2 lines away due to winning DPC: NA. Recall that the team lost only once during the regular season.
Team Tickles of Europe, Infamous of South America and PuckChamp of the CIS are 3 teams worth mentioning. Each of them finished second in their region's Upper Divisions, earning a place in the Top-20.
That's not all the changes that happened this week. Go to the World Professional Teams Ranking page to read more.